Let's find the right defective seat belt lawyer for you

Rest assured. We'll find you the right lawyer.
We'll reach out to you shortly to get additional information for a personalized recommendation.
For immediate results, call

800-206-8800

Searching for the right defective seat belt attorney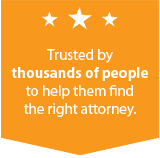 Awesome people to work with. They make sure you are getting the service and attention you deserve. If you need an attorney, they will get you nothing less than the best!
Karen U.